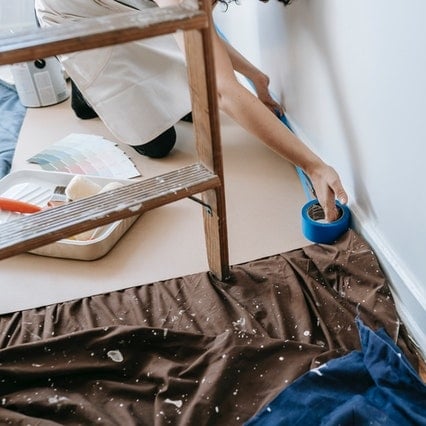 Blog Posts
Painting Services
How to Cut In While Painting Your Interior
- December 17, 2022
Preparing the interior of your home for painting can be challenging. Often, it can take the same amount of time to get surfaces ready as it does to paint them. You can reduce your time preparing trims, moldings and doors by learning the professional technique of "cutting in" while painting your rooms. To achieve a pristine appearance in your interior, consider these helpful tips to accomplish a clean look.
What is Cutting in While Painting?
Cutting in refers to an advanced method of filling in the nooks and crannies a paint roller cannot reach without affecting surfaces that don't require paint. A more common but costly and time-consuming option is using masking tape, but with a steady hand, you can save time and achieve the same result. It is a handy technique when painting in tight places. For instance, window and door frames, wall edges, ceiling lines and skirting boards are prime examples of where cutting in can give good coverage and create clean lines. Before you begin, decide if it is the best option for your project. You can seek advice and services at Pacific Coat Painting from one of our professionals in Portland, OR.
What Tools Are Necessary?
When preparing to paint your interior, your tools are just as essential as the paint you purchase. You will need to ensure you have a good-quality paintbrush and other necessary items available to you. Additionally, you should confirm that the room you are painting is ready before you start. Cover or move any furniture out of the way and ensure the walls are clean and debris-free. Be sure you have the following tools ready to go before you begin your project:
A small professional quality angled paint brush
Drop cloth
Small bucket
Paint
Painters tool or small knife
Ladder
Damp rag
What Is the Process of Cutting in While Painting?
How do you cut in while painting? The best way to cut in while painting involves using a small angled paint brush to apply paint to the surface next to the area that does not require painting—for instance, a light switch, ceiling fixture, window frame or the perimeter of a door. Start by applying the paint close to the edge but not flush against it directly. Follow up by slowly using your brush to spread the applied color to get it closer to the edge. It is best to cut in and paint one wall at a time. The paint can dry and look uneven if you cut in the entire room before painting with a roller. As a beginner, keep in mind that it can be challenging to keep a straight line without the paint overlapping or bleeding into other areas.
You can get great inspiration and guidance from our specialists to make it easy for you to take on your decorating endeavors. Our award-winning Pacific Coat Painting company has been the premier painting outfit in Portland, OR since 1997. You can call us at 503-444-7960 or contact us through our website. Our painting professionals offer all the services you need and are happy to help!