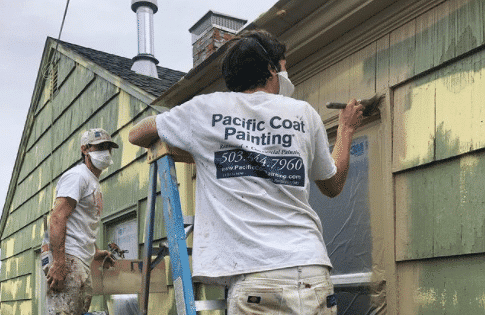 Painting Services
Is It Worth Hiring a Professional Painter?
- December 5, 2022
Whether you want to refresh the interior or exterior of your home with a new coat of paint, hiring a professional painter is a good way to save time and ensure you will be pleased with the final project. Hiring a professional painter in Portland comes with a significant cost, so if you're trying to justify the expense, here are three things you need to know.
A Professional Painter Can Prep Walls Properly
A paint job is only as good as the prep work used on the wall in question. Prepping the wall properly is non-negotiable for a smooth finish, and professional painters know exactly how to perform the following steps to create a smooth canvas that is ready for a fresh coat of paint:
They remove excess texture from the walls by scraping off any caked-on debris and old paint flakes.

They apply drywall compound to any holes in the wall and let it dry. They complete this step several times until the wall looks brand new.

They clean the walls to remove dust, dirt, fingerprints and other impurities that could affect the smoothness of the paint once it dries.
Prepping drywall for painting takes up a lot of time, but it is an essential step. You will not be happy with the painting project once it has been completed if the drywall does not go through the proper prepping procedure.
A Professional Painter Knows the Right Techniques
Anyone can slap paint on a wall, but professional painters have a variety of tools and techniques that apply paint smoothly and evenly. Painting professionals in Portland understand how to keep brush strokes off the wall. They know how much pressure to apply to rollers to avoid drips and smears in the paint. They know which brushes are best suited for trim work, and they understand how environmental factors affect various brands of paint, so they can give strong recommendations for your unique needs.
A Professional Painter Is Efficient
Painting a home is a tedious and time-consuming task. Professional painters in Portland have the experience necessary to accurately calculate how much paint you need for your project. They do not waste paint by guessing how much they need for each room, so you save money on supplies. Professional painters also understand how long paint needs to dry between coats to avoid an uneven finish.
Efficiency is well worth the price of paying for a Portland painter to complete your project. Not only does efficiency get your project completed on a faster timeline, but it also saves time, energy and effort while minimizing the disruption to your daily routine.
Hire a Professional Painter in Portland
If you're looking for a professional painter in Portland, Pacific Coast Painting is ready to help with your project. Our expertise answers the question: is it worth hiring a professional painter. Contact us today to set up an appointment for professional painting.